Rockin' Hollow Tack
I offer hand-tied rope tack featuring many ways to go bitless and communicate with your horse as naturally as possible. I also offer hand-sewn, hand-tooled, and hand-painted leather tack items. You may see pictures of my work on our online "Store" or also at our Facebook page (www.facebook.com/rockinhollowranch). There is also a Facebook group where special offers and sales are displayed – feel free to join! (https://www.facebook.com/groups/rockinhollowtack)
Item pricing can be found in the store. If you are looking for something specific, please feel free to reach out to me via Facebook messenger or email for a quote. 
When placing an order, please allow 7-10 business days for rope items to be made and shipped to you. Custom leather projects are quoted on a customer by customer basis and require more time as hand-sewing leather is not for the faint of heart. 
I also have several ready to ship items in the store and those can go out as soon as payment has been received.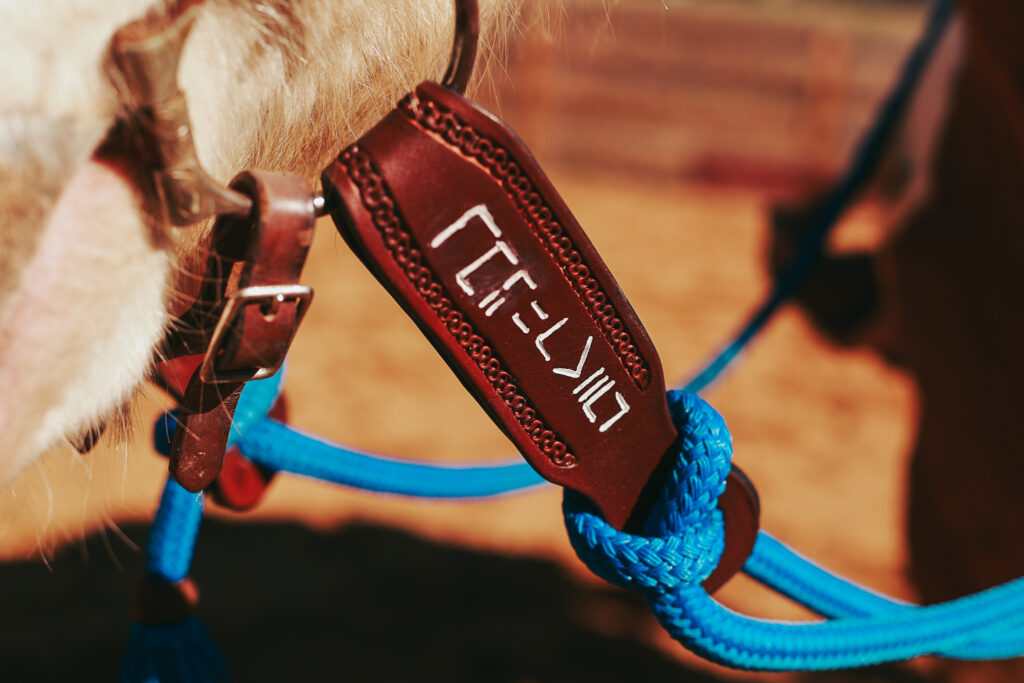 Mustangs!
I am a TIP trainer for the BLM (Bureau of Land Management) and am able to TIP horses out for potential adopters. What this means is I pickup wild horses that have been gathered from the range and I start the gentling process for their adopters. TIP horses must be able to pick up all 4 hooves, load into a trailer, and lead. I also offer continued training and start under saddle packages for Mustangs.
If you are interested in adopting a TIP horses or a gentling package, please reach out to me to discuss.
Horseback Riding Lessons
Lessons are offered to students who would like to create a solid foundation with their horse or those who just want to learn how to ride responsibly. Lessons are open for beginners or for those that are more advanced. My program focuses on full spectrum horsecare. Students learn how to communicate with their horses on the ground as well as in the saddle. We also focus on proper biomechanics and balance in the saddle, as well as effective communication with your horse using a natural method and as few tools as possible. Lessons range from 1-1.5 hours and limited lesson horses are available for student use. If you have your own horse but no trailer, I am happy to travel to you. My price for a traveling lesson is based on the distance I have to travel. Areas that I service are: Hickman Co., Dickson Co., Maury Co., Williamson Co., Cheatham Co., and Davidson Co. Please feel free to contact me if you would like to get on the schedule or come observe a lesson. On site lessons are $70/lesson.
Horse Trailer Painting
Yes, I paint horse trailers! Please see the page here on the website titled 'Horse Trailer Painting'.